11/24(金)~26(日)にシンガポールで開催される
J-POPカルチャーイベント「Anime Festival Asia Singapore 2023」に
玉置成実の出演が決定しました!
「Anime Festival Asia(AFA)」は今年で15周年を迎える
東南アジア最大規模のJ-POPカルチャーイベントです。
今年はSACRA MUSICから、FLOW、ASCA、halca、スピラ・スピカ、玉置成実(特別出演)が出演し、
11/26(日)に「AFA×SACRA MUSIC FES.」を開催します。
【イベント名】Anime Festival Asia Singapore 2023
【日程】2023年11月24日~26日
【会場】 Suntec Singapore Convention & Exhibition Centre
【オフィシャルサイト】 http://animefestival.asia/afa23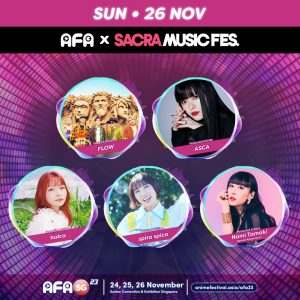 Nami Tamaki will appear at the J-POP culture event "Anime Festival Asia Singapore 2023" to be held in Singapore from November 24th to 26th !
"Anime Festival Asia (AFA)" is the largest J-POP culture event in Southeast Asia, celebrating its 15th anniversary this year.
This year, FLOW, ASCA, halca, spira spica, and Nami Tamaki (special appearance) from SACRA MUSIC will perform at "AFA x SACRA MUSIC FES." special stage that will be held on Sunday, November 26.
For more info, please check AFA's official website.

Event Name: Anime Festival Asia Singapore 2023
Event Period: November 24-26, 2023
Venue: 📍 Suntec Singapore Convention & Exhibition Centre
Official Website: http://animefestival.asia/afa23